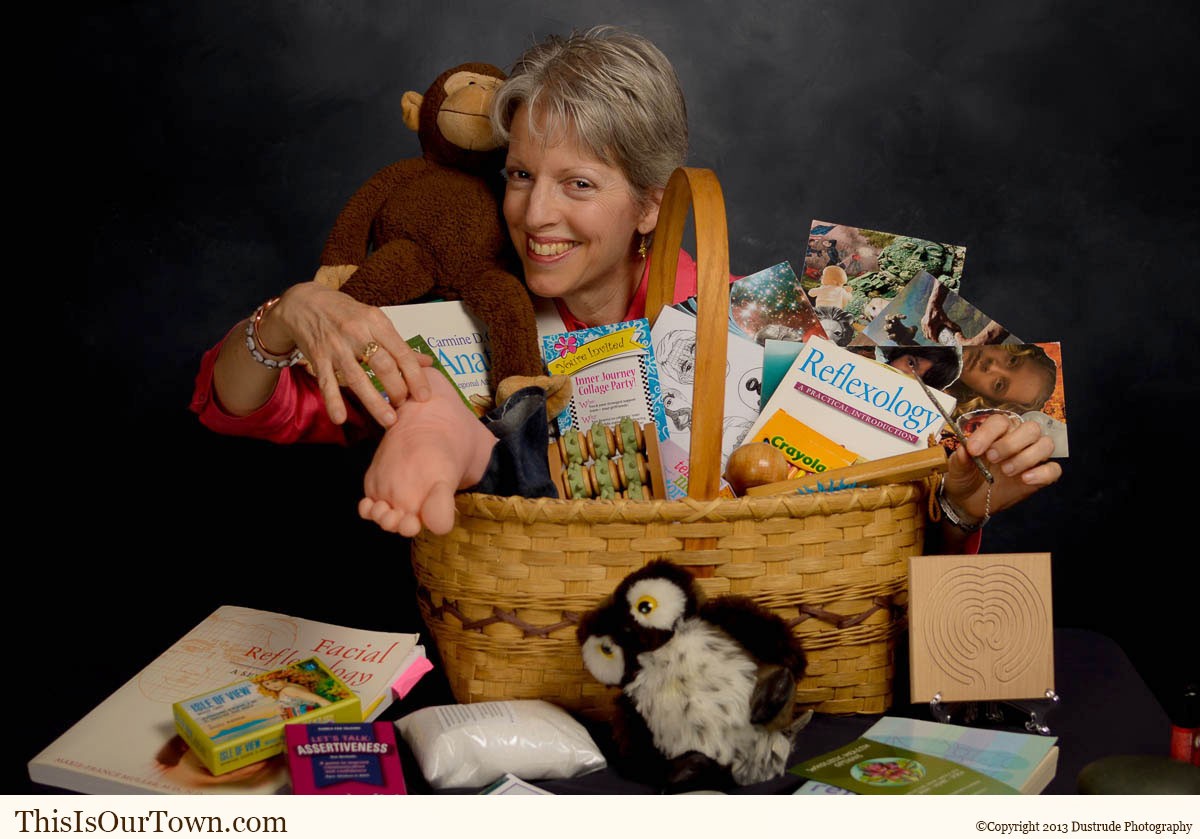 Deb chose a basket to contain & suggest the services she offers, but I think she should have used an iceberg... Many of us know Deb as a touch therapist & life coach. Some of us also know Deb as a versatile actor who's been in a dozen shows at SJCT, as well as Madame Arcati in Island Stage Left's "Blithe Spirit."
What most of us
don't
know is that Deb used to act, sing & do voice-over work professionally... she's been a graphic & pen/ink artist... has two of her photographs in the City of Olympia's permanent gallery... was primary organizer for one of the largest political events (500-600 citizens in WA & OR) in Olympia, WA... designed a multi-arts program for adults with developmental disabilities... and founded, directed & wrote for an award-winning Readers Theatre ensemble for senior women for 10 years.
When asked to summarize her work over the years, Deb shares a recent client testimonial -
"Deb nourishes my body, heart & soul"
and then she says,
"I've been a dabbler all my life, and a wellness educator for over 20 years, and what I love most is helping others discover the beauty, wisdom & power within."
Deb currently offers 4 popular services through her local business, Wholistic Health Options:
"Reflexology massage" - her own blend of Swedish, Thai Yoga & "SRM" (soothing Stretching/Rocking Massage) combined with powerful reflexology on the feet, ears, face & hands.
"Wholistic" health coaching - helping both individuals & couples navigate through life's ups, downs & in-betweens, with life coaching informed by her Psychology BA & former counseling experience.
Inner Journey Collage (IJC) -helping women access their inner wisdom through this fun & therapeutic collage process of her own design which allows them explore various themes, e.g., "selves," in order to better understand & accept themselves and their world.
Wellness workshops - designed & facilitated for a wide variety of venues including business & service organizations, hospitals & retirement communities. For information on Deb's upcoming venue, see: http://wholistichealthoptions.com/wellness-workshops/